Imagine you and your partner, lying under a blanket of stars, surrounded by wilderness and all the noises that come with it, all while tucked into a cozy bed in the middle of nowhere. Now how great does that sounds? I am not sure what it is about doing a 'sleep out' while on a safari that gets me so excited. Maybe because most of them are referred to as a 'tree house' and that evokes a childlike sense of adventure and wonder… or maybe because there is no better way to connect to nature.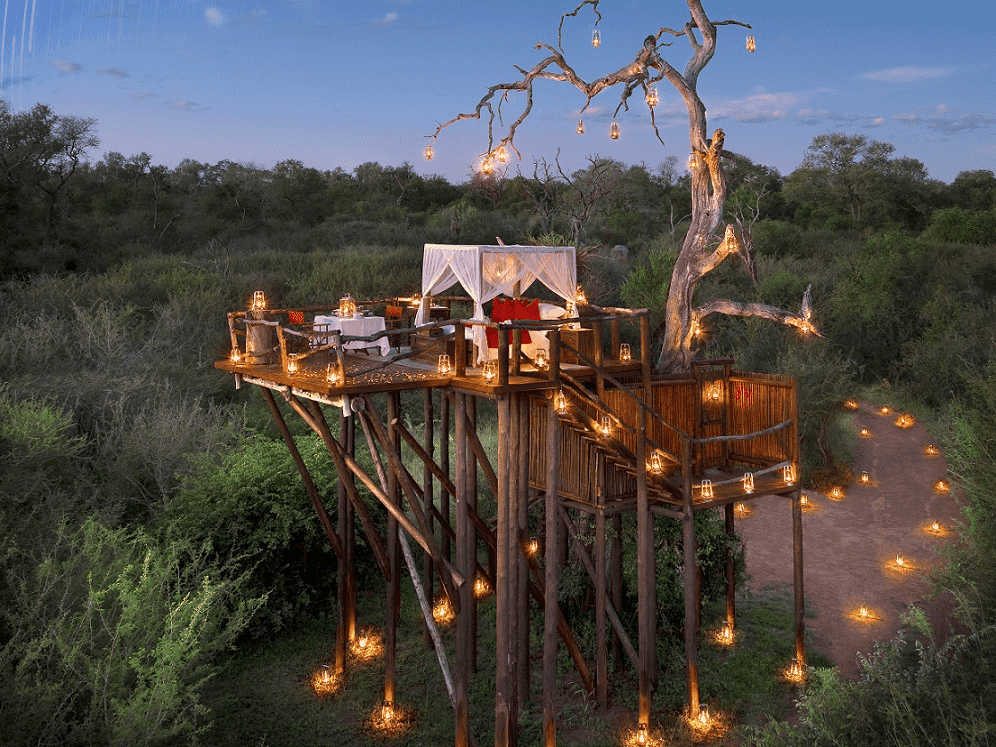 This is something I would absolutely recommend you experience whenever you have an opportunity during your vacation! Many of the best luxury camps in Africa offer sleep outs in treehouses and on star bed platforms, which certainly does not mean sleeping 'rough' by any stretch! In many cases they are super-luxurious and comfortable, coming with most of the luxurious you'd expect in a lodge bedroom.
These experiences are usually filled with a wonderful mix of fun; excitement and a slightly hint of fear (which is pretty much the mix that keeps us going back on safari) as you'll be left alone to enjoy the night and listening to what it has in store for you, and these are the stories you will be telling for years to come!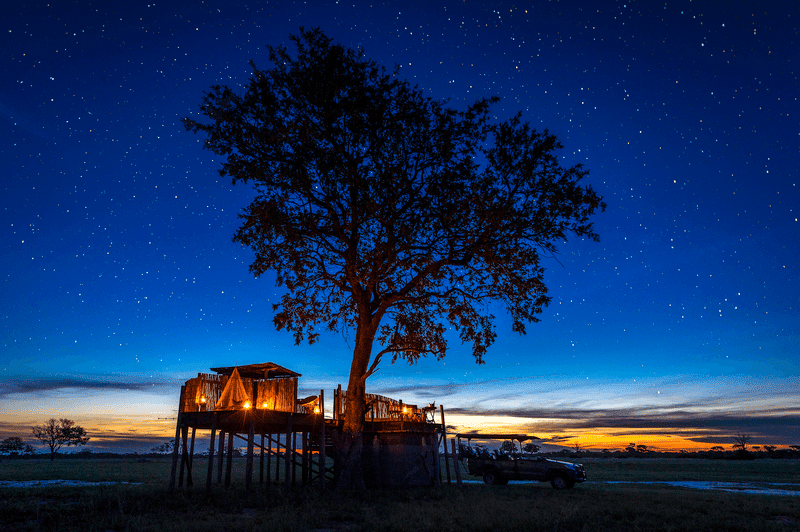 Linkwasha Sleepout – Zimbabwe
Like with most things in the safari industry, there are a whole array of options. Starting from sleep outs set up attached to your room, platforms built above the ground, whole camps set up as treehouses and as rustic as a mattress next to a roaring fire. Here are a few of our favorite sleep out options for you to try next.
Doro Nawas – Namibia: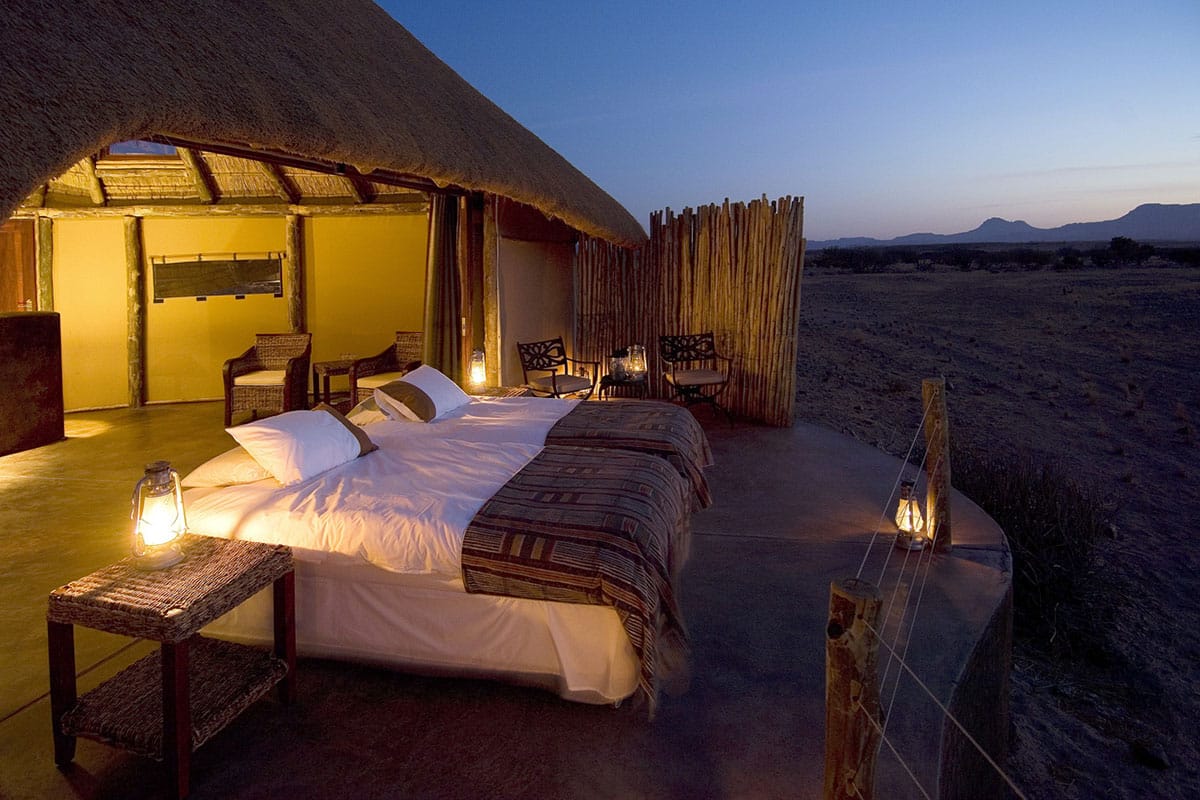 Namibia's Damaraland boasts some of Africa's most spell-binding landscapes. It's a region shaped by immense prehistoric volcanic action and home to 10 000-year-old rock paintings and carvings. Each chalet at Doro Nawas has a star-bed that can be wheeled out onto your veranda for an incredible evening under a net of constellations
Kanana Treehouse, Okavango Delta, Botswana: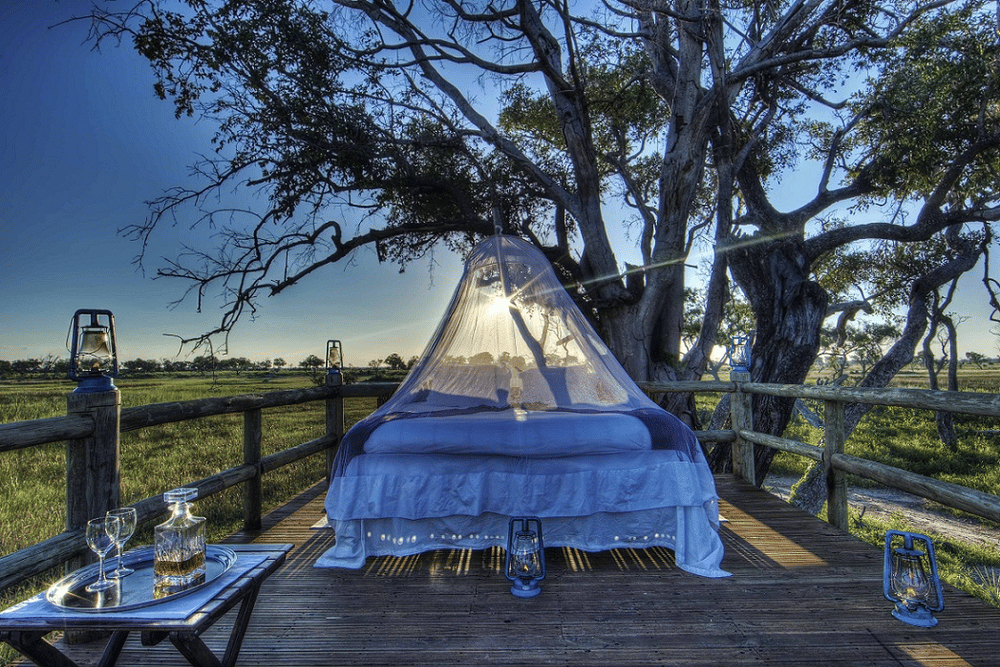 Kanana Camp is in the most beautiful setting and located in Botswana Okavango Delta. It's a super camp where you can go on game drives, mokoro and walking safaris during the day, and then one night you can sleep in the beautiful treehouse sleep out, away from everyone, peacefully and alone with nature. Sitting out on an open grassy floodplain, this raised platform has a double four poster bed clad with netting and surrounded by lanterns. As you drift off to sleep you are serenaded by the painted reed frogs and bell frogs and the snorting hippos in the distance. You might hear a hyena passing by or the rasping sound of a leopard as it calls out in the distance.
https://www.youtube.com/watch?v=V6aIi9zJq3U
Tabu Tree & Little Tabu, Okavango Delta, Botswana: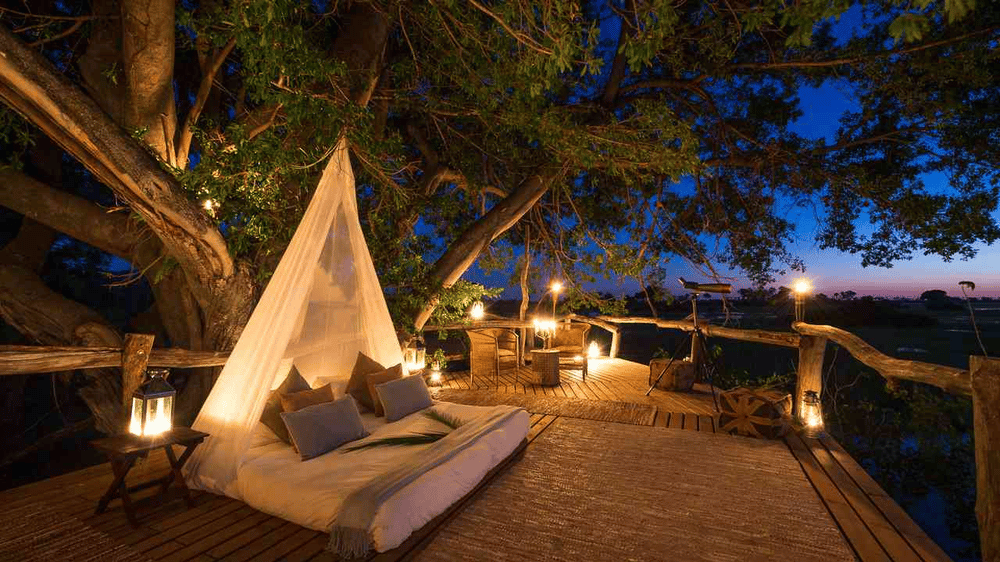 This beautiful Okavango Delta hide, accessed by guests at both Tubu Tree and Little Tubu (Wilderness Safaris), offers a wonderful platform from which to enjoy passing wildlife. At night, the hide is transformed into a Star Bed that provides a unique sleep-out experience – a great way to thoroughly immerse yourself in the sights, sounds and scents of the wilderness.
Ruckomechi Camp, Mana Pools National Park, Zimbabwe: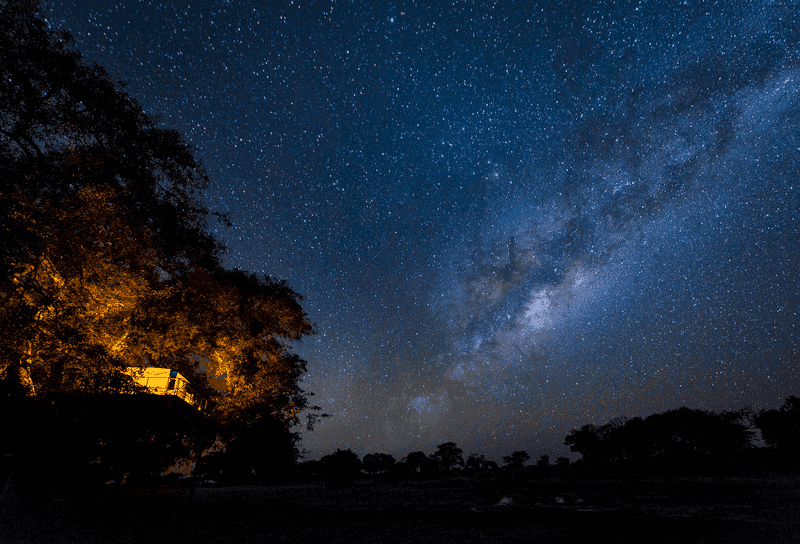 Ruckomechi Camp in the Mana Pools National Park in Northern Zimbabwe has a renowned sleep-out deck known for its incredible animal sightings. The deck overlooks Parachute Pan, which is frequented by lion, leopard and wild dog. You can expect a thrilling night ahead of you! It is the ideal setting to fall asleep to the sound of the African wild as you gaze at uninterrupted views of the Milky Way above.
Linkwasha Star Bed, Hwange National Park, Zimbabwe: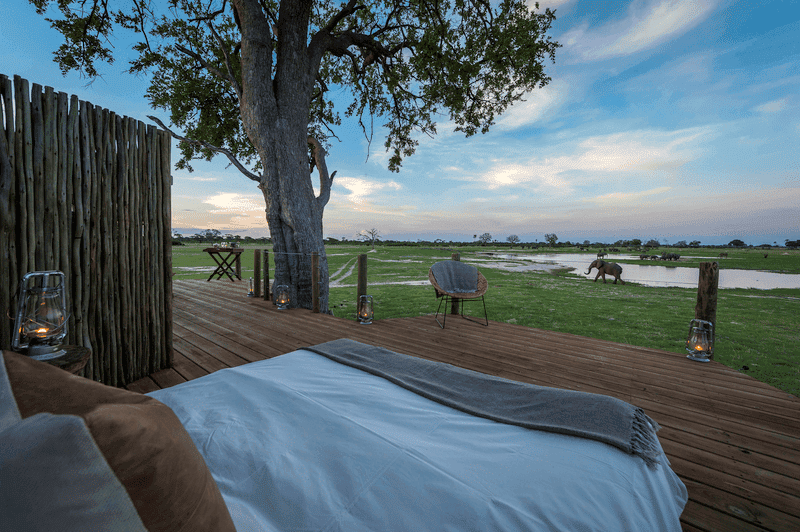 Linkwasha Camp itself is luxurious, with only eight rooms set amongst a 31 000 hectare private conservancy known for its great herds of elephants, few camps and few visitors, as well as having exceptional guides. One night you can leave behind the main camp and be driven out into the wilderness and stay under the stars in their star bed. The star bed is positioned overlooking Scott's Pan which is constantly visited by wildlife, day and night.
Ngala Private Game Reserve, South Africa:
I couldn't leave this one out, as this is a very special place for me and T! It's where we met and where we got engaged! Experience the romance and magic of Africa in the luxurious Ngala Treehouse, a remote overnight retreat that allows you to sleep on an elevated and safe platform, under a blanket of stars. Complete with running shower and flushing toilet, this treehouse promises unsurpassed comfort while offering the most exclusive wilderness experience.
Lion Sands Game Reserve, South Africa: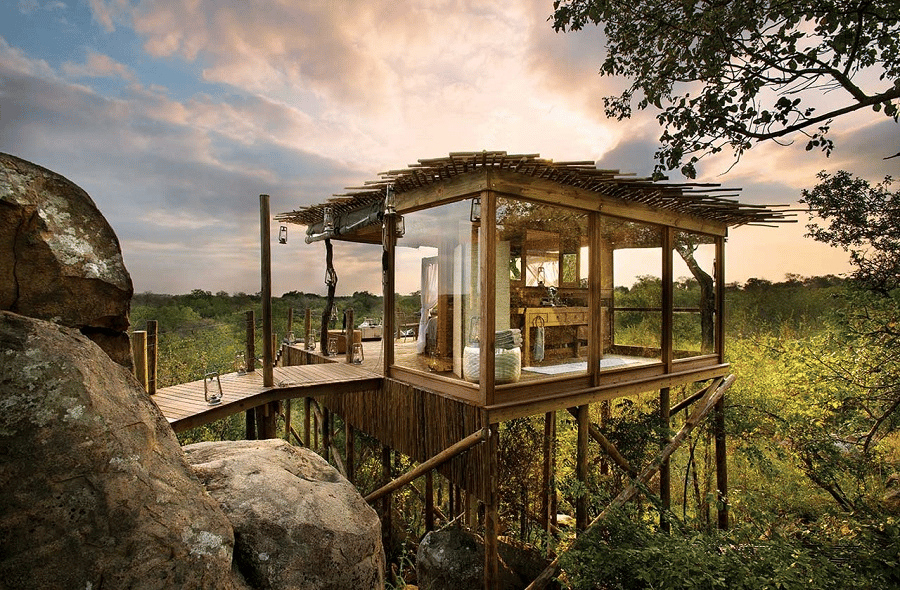 Lion Sands in the world-famous Sabi Sand reserve in South Africa, with three incredible sleep-out decks, each with their own design and perks. There is Kingston Tree House, Chalkley Treehouse, and Tinyeleti Treehouse. All of their sleep-out decks offer a world class 5-star luxury, where guests are treated to dinner and drinks atop their deck of choice for the night.
Chinzombo, Lower Zambezi, Zambia: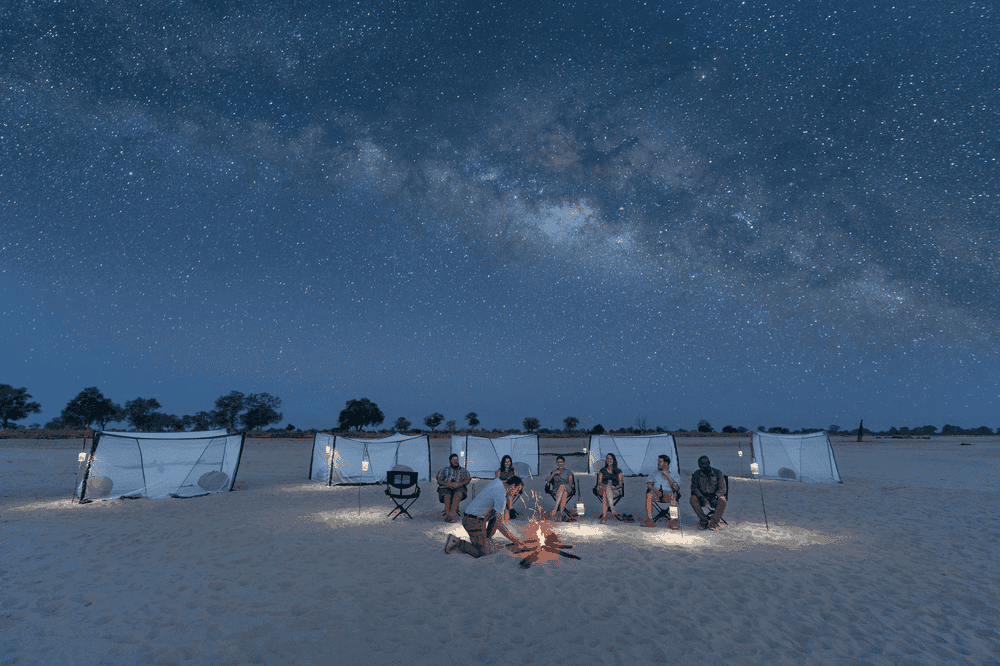 Head down towards the dry river bed, accompanied by your guide, a scout and a chef for a night in some of the wildest parts of Africa. Your mattress, which is protected by a mosquito net exposes you to the millions of stars you'll sleep below. We recently had 2 of our 'extreme travels' enjoy a night under the stars here and they had an experience to remember, they were even visited by a pride of lions throughout the night.
For one of T's birthdays I took her on a sleep out. She says now that choosing a lodge which offers this option is crucial. The feeling of waking up to the sounds of nature is indescribable. And by sounds I mean lions roaring, baboons waking up and playing, perhaps a leopard calling, a herd of elephants grazing… it has to be on one's bucket list!
Get in touch if you'd like to know more about this unique experience! We will help you include one of them in your next itinerary!