With the end of the year looming and days spent around the fire, or relaxing on the beach or even getting ideas of what to buy for that traveling enthusiast you might know, I thought I would come out with a list of my favorite books on safari, animals or just a good read about adventure and how 'things used to be' on safari. I grew up reading most of these books, I can still remember reading them at boarding school day dreaming of one day living out my dream of being a game ranger …
The White Lions of the Timbavati – Chris McBride: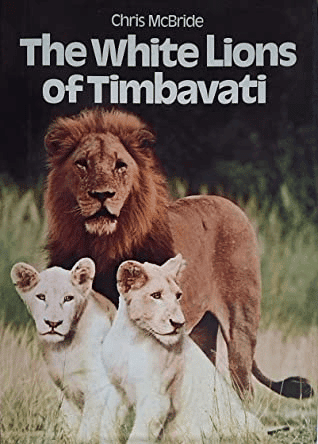 This is one of my favorites, I first read this book when I was about 10 years old and it invoked such a sense of freedom and love for following lions. The book is an account of the discovery and lives of three white lions born in the Timbavati Nature Reserve in South Africa, whose survival is in constant jeopardy because of their conspicuous color and lack of natural camouflage. In those days they would camp out to follow the pride, Chris McBride would be woken up to lions calling in the distance, he would get out of bed and draw a line in the sand from where he thought the calls were coming from, and that is how he knew which direction to start looking the next day, I have always loved the simplicity of that. This area is still famous for producing white lions, and this is where the gene was first discovered and followed. A short but great read.
Whatever you do, Don't run – Peter Allison:
A fun read about a guide that is working in the Okavango Delta and it gives you a 'guide's-eye view' of living in the bush, confronting the world's fiercest terrain of wild animals and, most challenging of all, managing herds of tourists. Passionate for the animals of the Kalahari, Allison works as a top safari guide in the wildlife-rich Okavango Delta. As he serves the whims of his wealthy clients, he often has to stop the impulse to run as far away from them as he can, as these tourists are sometimes more dangerous than a pride of lions. This book is so fun to read both as a previous guide (as a lot of the stories are similar) and as a guests of these lodges, as I am sure you have all wondered at some point what life is like behind the 'curtain.'
A Game Ranger Remembers – Bruce Bryden:
This is an honest account of what life can be like as a conservationist working in park in Africa, sometimes brutal but always funny and the author really shows his story telling ability this incredible book. Here is the blurb, "This is a collection of stories about the life of a bushveld conservationist as it is lived at the ground level by that elite band of men and woman who guard the Kruger National Park – at the cost of much sweat and, not infrequently, quite a bit of blood. Bruce Bryden's tales of 27 years in the service of our most famous park make a gripping and entertaining read, abounding with encounters with elephant, lion, buffalo, leopard and rhino, whether darting for research, managing culling operations by helicopter or stalking on foot. In the best tradition of bushveld stories, there is a great deal of shooting, and a fair amount of running away; there are meetings with extraordinary characters among the rangers; memorable gatherings; hilarious mishaps and narrow escapes; and throughout, a great love and respect for both the wilderness and the creatures that inhabit it." I have read this book on many occasions and it has taught me something about life, living in the bush and animals on each occasions. With his no-hold-bared approach it could be a tough read for some, but it will really get your adventure juices flowing and, if you are anything like me, you'll want to get out there and experience it for yourself.
The Elephant Whisperer – Lawrence Anthony: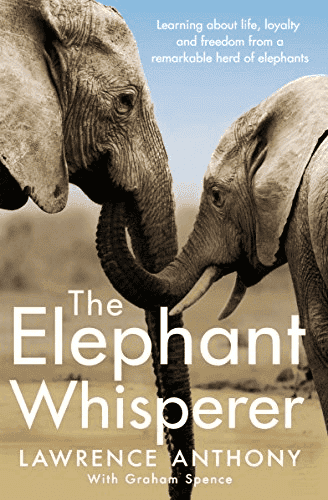 If you are interested in animals, nature, true stories of incredible interactions between animals and humans then this is the perfect book to add to your holiday reading list. The late conservationist and author, "Lawrence Anthony accepts a herd of 'rogue' elephants on his Thula Thula game reserve in South Africa, his commonsense told him to refuse. But he was the herd's last chance of survival – notorious escape artists, they would all be killed if Lawrence wouldn't take them. He agreed, but before arrangements for the move could be completed the animals broke out again and the matriarch and her baby were shot. The remaining elephants were traumatised, dangerous, and very angry. As soon as they arrived at Thula Thula they started planning their escape…As Lawrence battled to create a bond with the elephants and save them from execution, he came to realise that they had a lot to teach him about life, loyalty and freedom. Set against the background of life on the reserve, with unforgettable characters and exotic wildlife, this is a delightful book that will appeal to animal lovers everywhere." This is also more than just a feel good animal rescue story and he also includes the challenges he and many conservationist face running a wildlife reserve. We all love elephants and their almost human like nature, do yourself a favor and read this book, it is wonderful.
Mahlangeni – Kopie Kruger: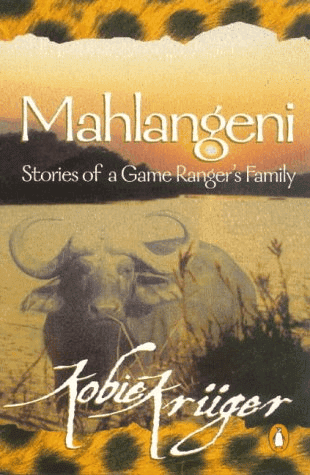 Tough book to find, but could arguably be my favorite from the list. I remember almost drooling over the pages reading as a teenager as I read the stories about the adventures, close encounters and fun they had as a family living in the middle of nowhere … literally. "Mahlangeni, the Tsonga word for "meeting place", is one of the most remote ranger stations in the Kruger National Park. Far from everywhere, this isolated corner of the wilderness was home for eleven years to Kobie Kruger, wife of the ranger in charge of the station, and their their three daughters. Running a household and raising a family in a place where leopards, elephants, snakes and alike are your only neighbours, where you have no telephone, and where a trip to town means first crossing a river full of hippos and crocodiles, is hardly a straightforward business. But Kobie Kruger tackled each problem with undaunted pragmatism and an energy that gives new meaning to word resourceful." This book is so fantastic that I think I have just added it to my list for Christmas. I still remember and laugh at some of the stories that Kobie told, you will want to read this book over and over again.
Please let me know if any of these books make it onto your book shelves this Christmas. I would love to hear what you thought of them or if you had read any other books about Africa or being on safari that you would love to tell me about.