As tourism seems to be back on the up in African travel, guests begin to flood back to make up for lost time over the last two years. We certainly agree that traveling and being out in nature is one of the most enjoyable things to do, but it does come at a bit of a price to the environment. Now, lucky for us, luxury and amazing wildlife adventures don't have to come at the expense of sustainability. An increasing number of African lodges has started to prioritize earth-friendly practices as much as they do show-stopping safaris.
What is a sustainable safari? It merely means that travelers and tour operators need to become more conscientious and seek new ways to ensure a travel experience that strikes a balance between satisfying our wanderlust and contributing to the wellbeing of the planet. This way, those that come after us can have something to look forward to when they visit the beautiful safaris across Africa. We usually look at three aspects of a lodge when planning a safari, what the lodge does do for their surrounding communities, what efforts they are making to preserve the wild areas they live in and how they are trying to lessen their own impact in which their land is on.
Here are some of our best sustainable lodges in Africa:
Phinda Private Game Reserve, South Africa
Pangolin Conversation at Phinda Private Game Reserve
One of the finest examples of luxurious sustainability, this reserve is located in the eastern area of South Africa in the breathtaking KwaZulu-Natal province. Where possible, Phinda limits energy waste with energy efficient air conditioners, LED lights and timers on pumps and water heaters. The lodges on the reserve also feature in-house water filtration systems, and all plastic water bottles have been replaced with reusable glass (Phinda estimates that 11,800 plastic water bottles per month have been eliminated). The reserve also prioritizes conservation efforts; for example, the Pangolin Conservation Experience lets guests accompany a research team to locate the rare animal and help conduct health checks. The reserve also fosters community development and local employment. On top of all of that, Phinda matches their sustainability efforts with a world class wilderness experience, known for incredible Black Rhino sights, one of the best places in the world to see cheetah and, if you are a birder, this reserve is just for you.
Tswalu Kalahari Reserve, South Africa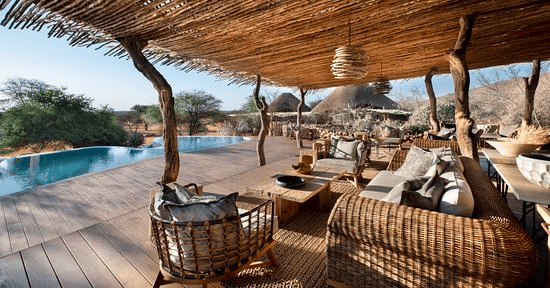 Lodges at Tswalu built with organic materials
Located in the north of South Africa, Tswalu is owned by the Oppenheimer family, who are committed to promoting conservation and adopting sustainable eco-tourism practices. The lodges on the reserve were built from organic materials yet remain incredibly luxurious. The Tswalu Foundation was established to ensure proper conservation management of the property and to promote ecological research. Tswalu means "new beginning," which underscores the ethos of the park, which is centered on research, restoration of the surrounding land and the reintroduction of indigenous animals. The number of rare species (like pangolins, brown hyenas, aardwolf and sable) hosted by the reserve speaks to its success.
Bisate Lodge, Rwanda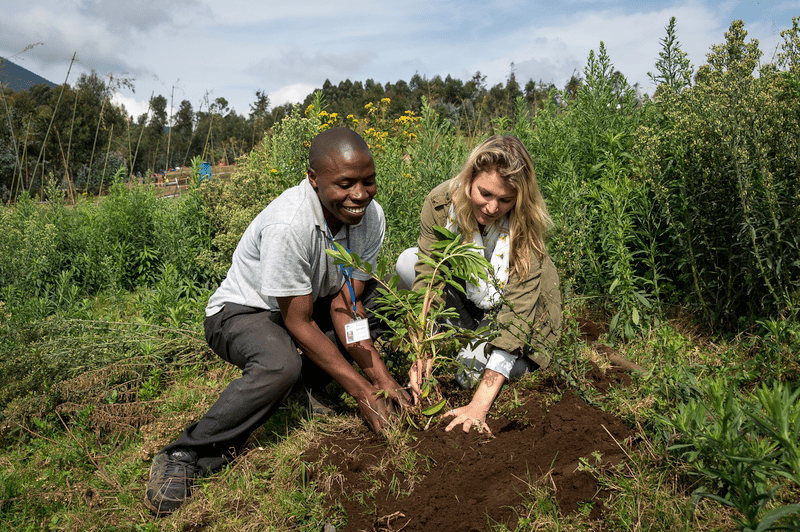 Tree Planting at Bistate
Run by Wilderness Safari, I will start off saying that I don't think a wildlife company in Africa does more for sustainability than Wilderness Safaris, truly inspiring and each of their lodges leave the least footprint possible. But, Bisate in Rwanda is one of their success stories in a long list of success stories. This lodge, located adjacent to Volcanoes National Park, is as innovative as it is stunning. In terms of sustainability, the lodge uses a water filtration system that negates the use of bottled water. Furthermore, Bisate doesn't use cling wrap, straws or plastic bags, but rather relies on things like environmentally-friendly bee-wax wraps and re-usable eco-coffee cups made out of bamboo fiber. A rain water harvesting system was also implemented. To reduce food transportation, a garden is grown on site with organic waste donated to the community for stock feed and compost. The lodge's exceptional reforestation program sees over 100,000 seedlings planted per year and has directly led to an increased abundance of flora and fauna in the surrounding area, with recent camera trap footages seeing animals around the lodge that have not been seen in that area for many years. Imagine spending the morning trekking mountain gorillas and spend your afternoon planting trees to help rebuild the forest in the Volcanoes National Park.
Mombo Camp, Okavango Delta, Botswana
Lions walking past the solar farm at Mombo
One of the best places for viewing game in Africa, Mombo Camp which is another Wilderness Safaris Camp is situated in the Okavango Delta. To protect this iconic natural environment, the camp adheres to the strictest environmental standards. Mombo is 100% solar powered; all electricity and hot water is provided via solar panels and inverters, and waste water is treated in an above-ground sewage plant before being returned to the environment. To reduce bottled water, reverse osmosis filtration is done on-site to produce high-quality drinking water. During the construction of the lodge, a professional arborist was hired to ensure that existing trees and flora were not damaged. One of our favorite destination in Africa to send our guests to, and their minimal footprint is one of the reasons why.
Xigera Lodge, Botswana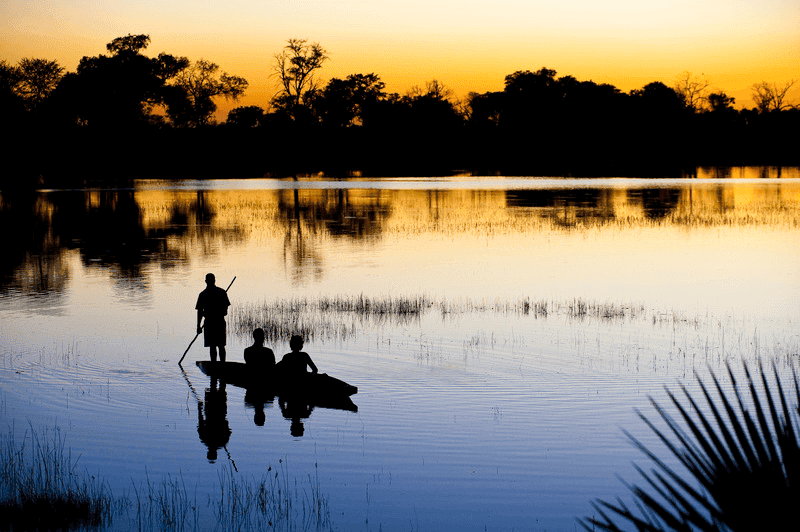 Tranquil sustainability at Xigera Lodge
Opening in June 2020, Xigera's goal is to ensure that the unique wildlife surrounding the lodge survives and thrives. The lodge promotes the TreadRight commitment to removing all single-use plastics and will be 100% solar powered. Hot water is supplied by thermodynamic geysers, using a minimal amount of energy, while SolarView tinted glass enables energy-efficient air conditioning. The Xigera Energy Centre, an innovative solar hybrid power system, supplies over 95% of Xigera's energy needs. This saves the lodge an estimated 175 000 litres of diesel and prevents the release of 500 tons of carbon emissions annually. With the installation of what is perhaps the largest solar farm in the Delta, Xigera hopes one day to charge their game-drive vehicles using solar technology. Situated in an incredible wilderness area, Xigera is fast becoming one of the 'must visit' destinations on a sustainable safari. We did a lodge feature on Xigera a few weeks ago, read it here.
Angama Mara, Maasai Mara, Kenya
Amazing views from Angama onto the Masai Mara
High above the Maasai Mara on the edge of a cliff overlooking the astonishing Great Rift Valley sits Angama Mara. To limit its carbon footprint, the lodge, which is plastic free, recently established "The Shamba" (Swahili for vegetable garden). The verdant garden supplies much of the property's food and guests can even pick their own ingredients. As part of an Angama Foundation initiative, each guest gives a US$10 per night donation, which is then put towards local community and conservation projects. A lodge we cannot wait to send guests to this year, imagine yourself on the edge of the great Rift Valley, viewing thousands of wildebeest below, all the while knowing that you are making a difference to the surrounding communities just by being there.
Nature gives us so much it is only fair we do our part to return the favor.
As bookings into Africa rise again and the world begins to regain its confidence in travel, it's a good time to consider what it means to safari responsibly. We hope that these insights help not only make your next trip, the trip of a lifetime, but that they also help sustain the places we visit for generations to come. Any questions about sustainable safaris and how you can make your next safari one, get in touch and let's start planning.