There is nothing quite like a walking safari, and I am not talking about the short walk a guide (maybe me) took you on after breakfast, I mean when we ditch the safari vehicle and set out on foot for hours at a time. In my opinion there is no better way to connect with your surrounds, as you silently walk through the bush carefully listening out for the smallest break of a branch to indicate an elephant might be close, or the distant alarm calls of a herd of impala to warn you about danger. You are in their world now, and it is a feeling that is hard to describe.
Following on from our last blog where we chatted about 'Sleep outs' and how they can bring you back to nature, walking safaris will do exactly the same, if not more. The reason we keep mentioning these types of experiences is because we believe that safari travel moving forward needs to be more about getting us back to the roots of nature, as our day to day hustle and bustle takes us further away from it. With that in mind I thought I would give you some of my favorite walking safari destinations.
andBeyond Ngala or Phinda Private Game Reserve, South Africa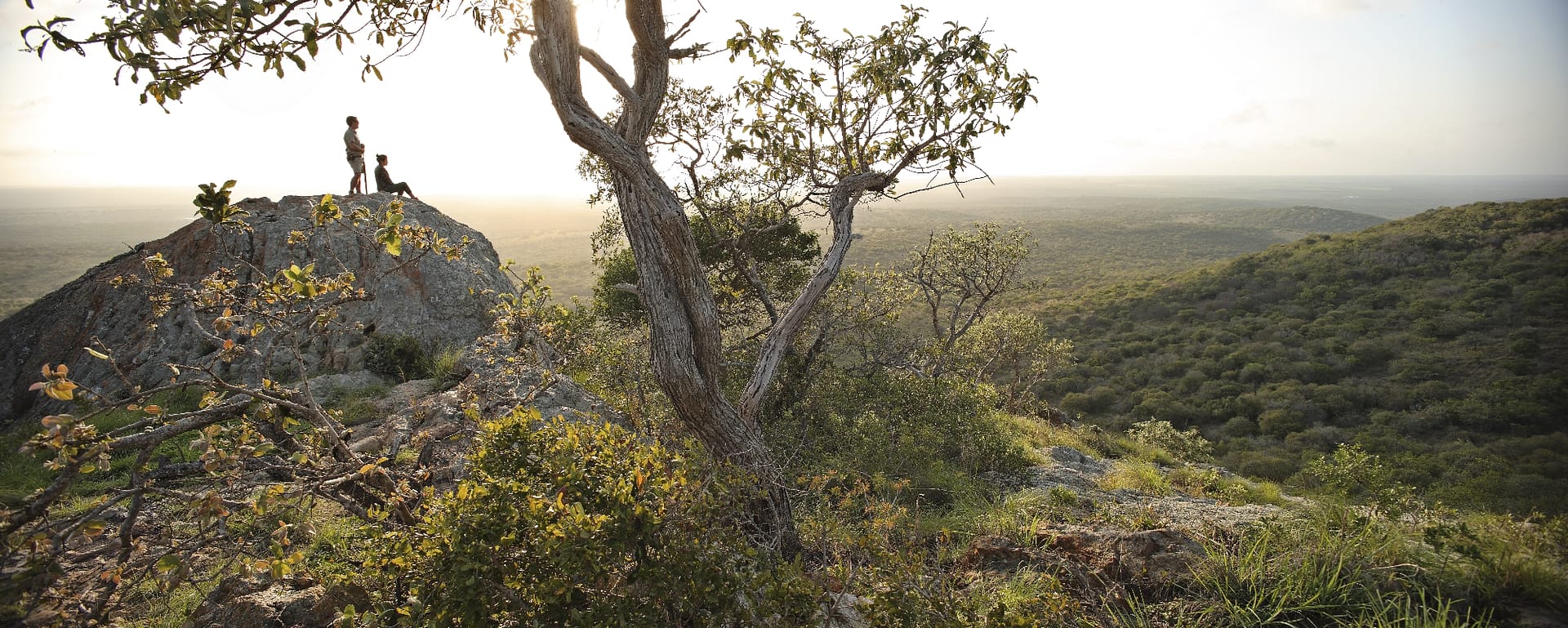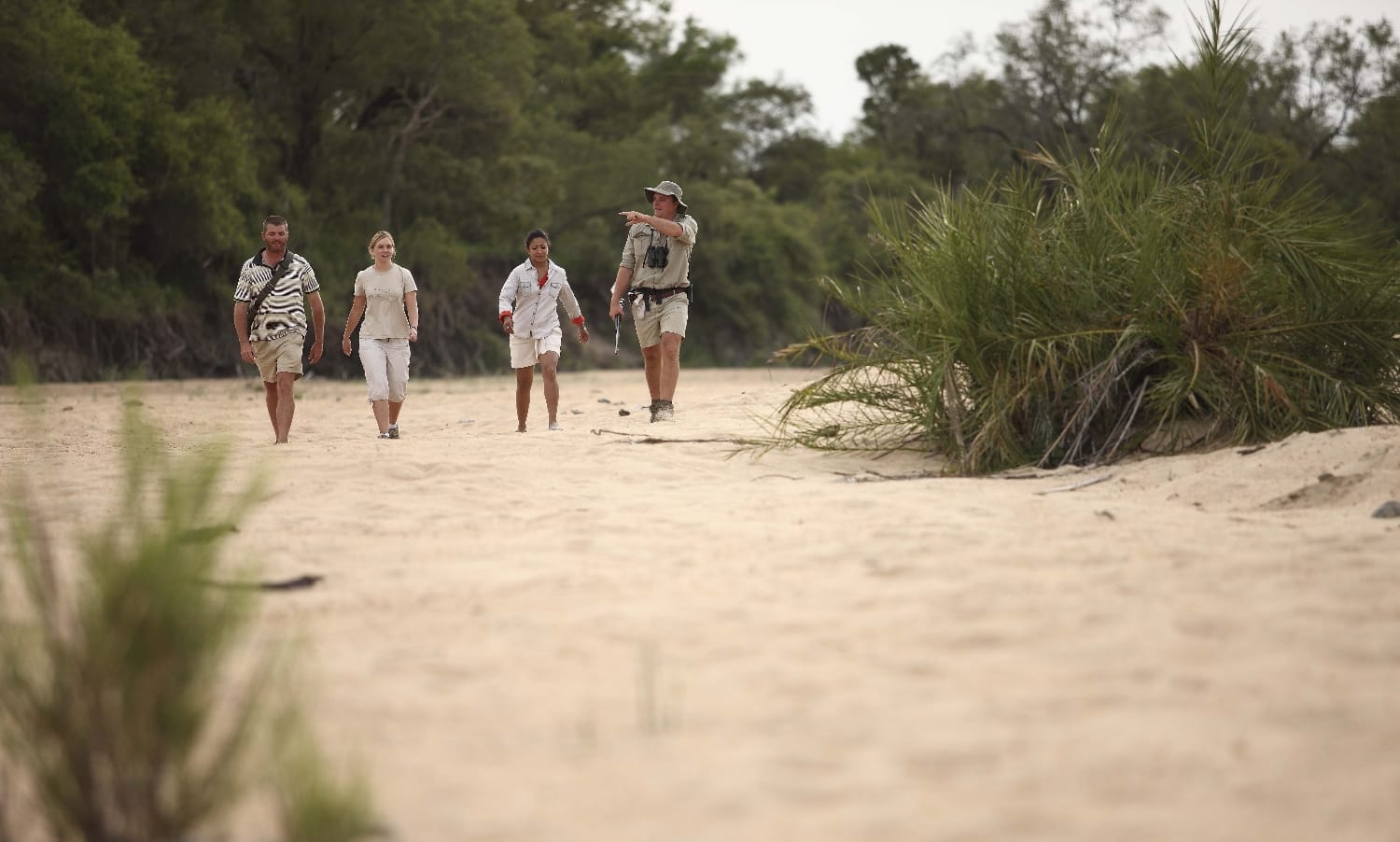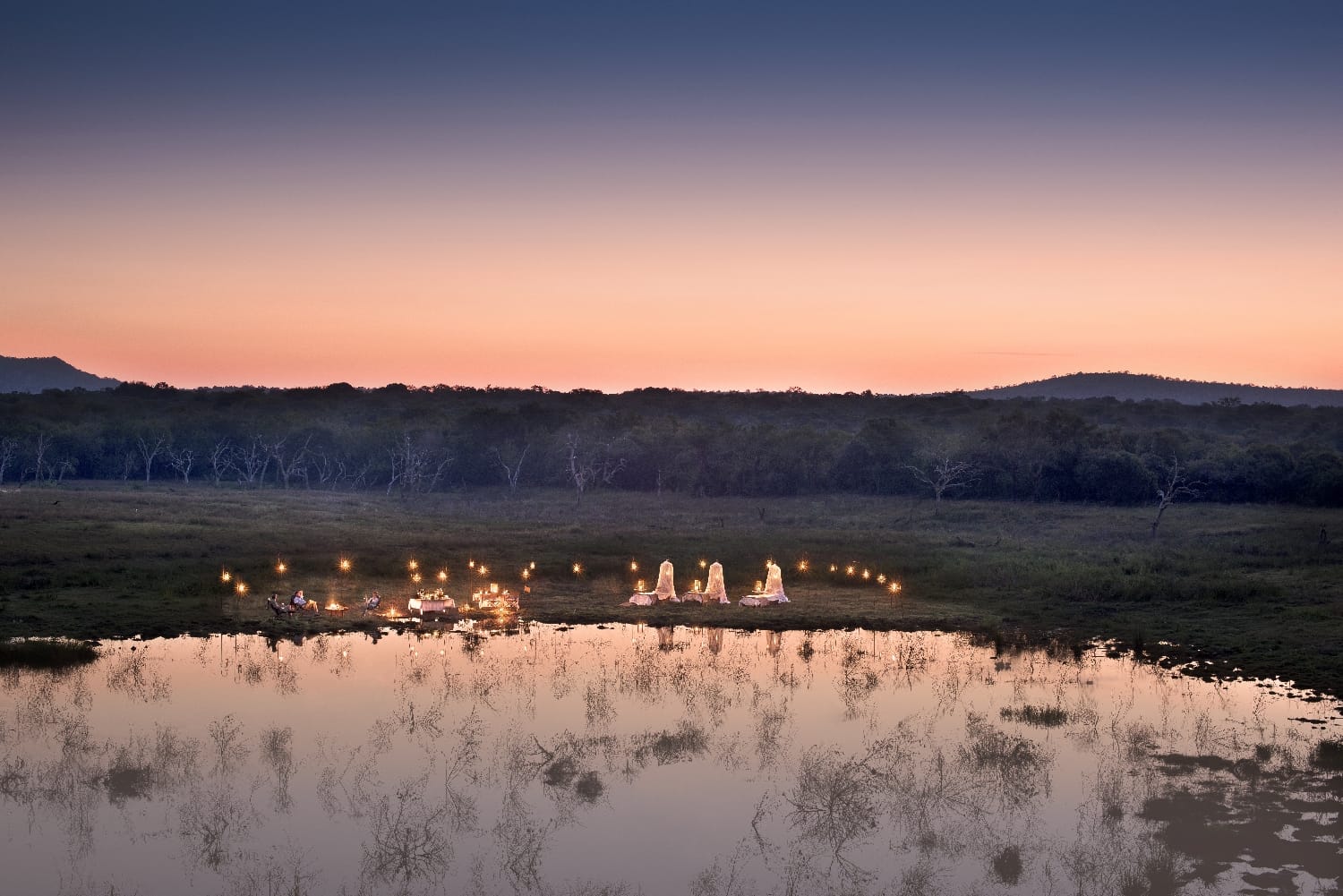 These two reserves are excellent destinations in South Africa to do a walking safari as I believe that the walking guides trained at andBeyond are the best in the industry. Phinda is the most beautiful landscape with rocky outcrops and seemingly endless rolling hills. The reason I love Phinda for a walking safari is that you have a great chance of seeing the extremely rare Black Rhino, these giants will definitely get your heart racing when you see them on foot. Phinda also puts together a wonderful sleep out (as pictured above), imagine spending all afternoon tracking a Black Rhino and ending your evening having dinner and sleeping under the stars. Ngala Private Reserve is a walking 'paradise,' the 36 000 acre property has such a small road network, that you can walk for hours before crossing a road, the feeling of being out in the middle of nowhere is incredible here.
Tarangire National Park, Tanzania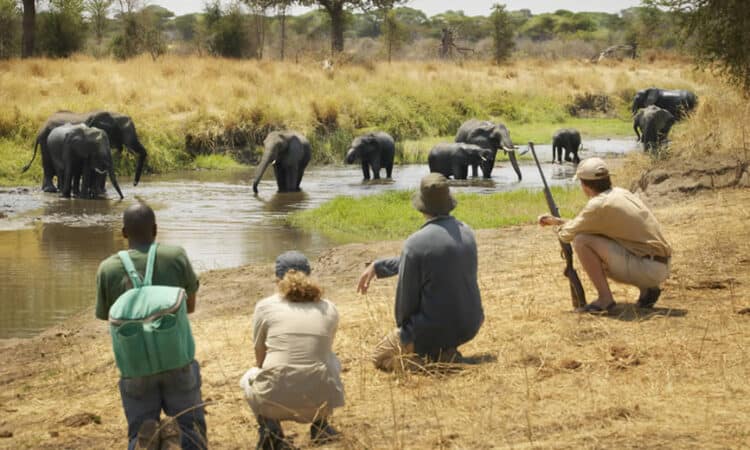 Almost completely off the 'normal' safari radar, this relatively unknown national park is one of a kind: rustic camps, minimal roads and hundreds of miles of untouched land to discover on foot. Although quiet with tourists, the reserve itself is teeming with wilderness, known for its massive herds of elephants (300 strong), ginormous Baobab trees and, if you're lucky, you might catch a glimpse of the famous tree climbing lions. Tarangire is nicely positioned between the plains of the Masai Mara and Lakes of the Rift Valley so it makes Tarangire a great place to spend a handful of days on foot exploring this magical wilderness. One of our favorite little camps here is Oliver's Camp. It is a lovely tented camp with a great location in the far south of the park. Check out a Tanzanian itinerary where we send you to Oliver's Camp to enjoy two full days walking through the magical Tarangire National Park. ,Click here to have a look.
Mana Pools National Park, Zimbabwe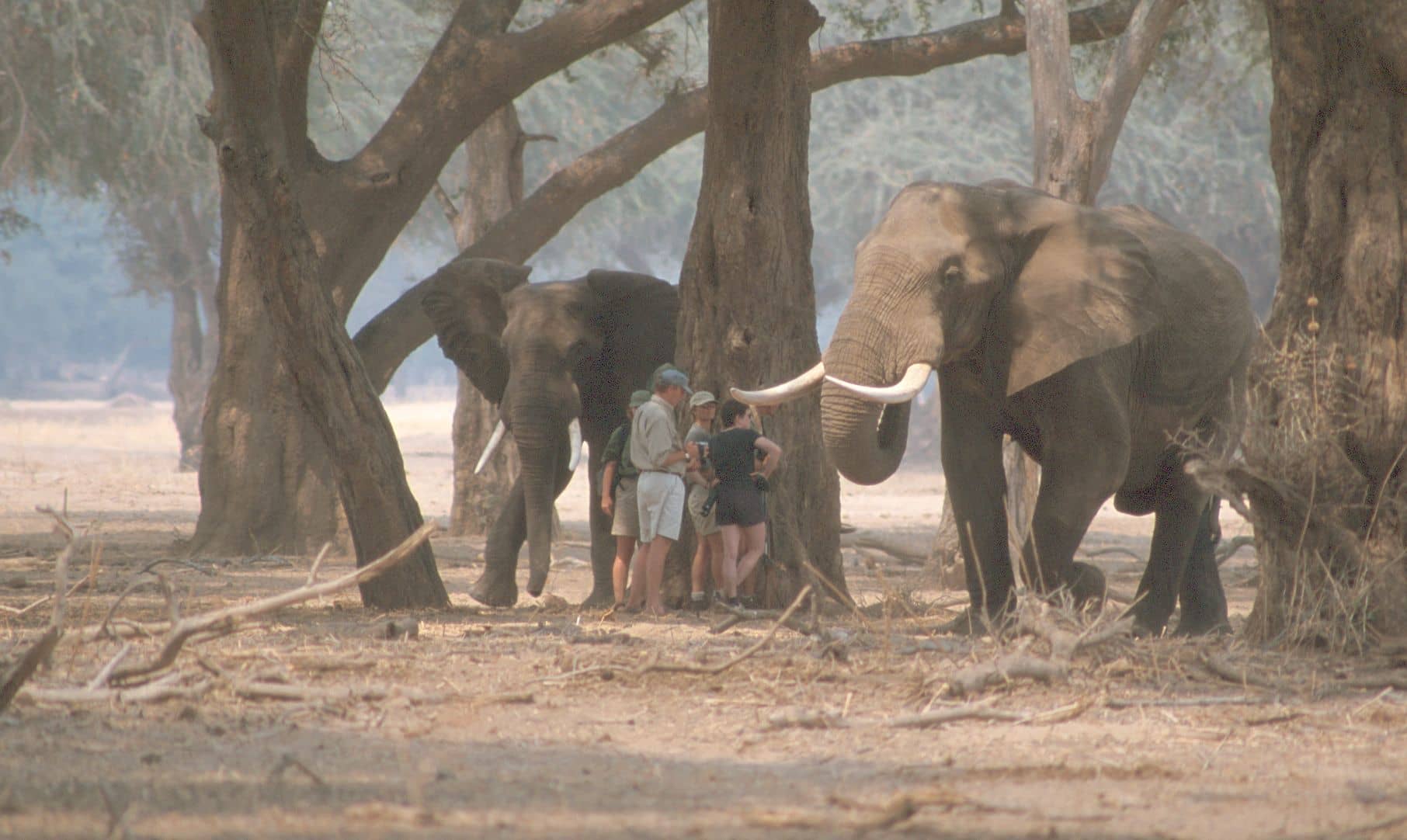 Remote and beautiful, Mana Pools is famous for its walking safaris. With the park's sparse vegetation allowing for good visibility and relatively relaxed wildlife, you can expect close encounters with species such as elephant, wild dog and even lion, something rarely encountered anywhere else in Africa. Walking safaris have been conducted in the area since the park opened in 1963, so many animals have become accustomed to seeing humans exploring the area on foot. Incredible elephant encounters can be had on foot, as many of the guides know individual animals well enough that they can get guests very close on foot, sometimes even coming up to the elephants while they are standing on their hind legs, stretching to reach the last remaining seed pods from the tops of the acacia trees. Guides here have come to know Mana Pools' lions and wild dogs so well that they are able to approach them relatively closely in safety, a truly unprecedented experience. A few weeks ago we did a lodge feature on one of our favorite lodges in Mana Pools, ,Nyamatusi Camp. Clic to check it out!
South Luangwa, Zambia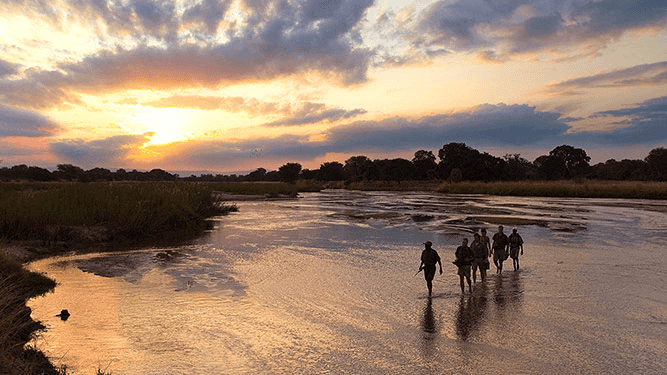 The Luangwa Valley not only pioneered walking safaris, it is arguably one of the best places to experience them. Before spreading to parks throughout the rest of southern Africa, the concept of walking with guests began in the Luangwa Valley where the walking safaris are famously intimate and immersive. Zambia's terrain is ideal for this type of adventure and its field guides are some of the best on the continent. Spend most of your time walking along the famous Luangwa River while viewing elephant herds, some as large at 70 strong. With the Luangwa Valley rumored to have a leopard in every second tree, you'll be treated to an expert display of tracking by your walking guide and tracker. Check out our lodge feature on Chinzombo Lodge in South Luangwa, click here.
Walking safaris also provide you with a freedom incomparable to any other safari activity. Once on foot, you are not constrained by roads and can go almost anywhere you like. The guides each boast an extensive knowledge of the flora and fauna in the area. A pile of bones on the side of the trail or an interesting insect can lead into an in-depth explanation, often coupled with fascinating first-hand guide experiences and stories. You can learn more about the African wilderness on a walking safari than you've learnt in your whole live, and walk away with a newfound respect for even the smallest of creatures and plants.
Interested in adding a lodge that specializes in walking safaris to your next trip to Africa? Get in touch with us make your next trip to Africa one to remember.