People tend to forget about Zambia when planning a safari to Africa, which is understandable as it is surrounded by more traditionally famous safari destinations in South Africa and Botswana, with their Okavango Delta and Sabi Sand reserves usually at the top of everyones bucket lists, even the world famous Victoria Falls is seen as a purely Zimbabwean venue.
In our opinion however, we love Zambia as a country and safari destination and is easily on the top of our list when guest want to return to Africa for a slightly different, more wild experience. It has unique wildlife that can only be found in that part of Africa (even flying lions), the worlds largest mammal migration, one of the most famous rivers and waterfalls in the world and exceptional luxury safari lodges, it make it a destination second to none. Coupled with the fact that some of the areas within the country are still more difficult to access, makes it feel like a true African adventure. In this blog we'll chat about some of our favorite reserves, and the lodges and animals you can find there.
Known as the Valley of the Leopard, South Luangwa National Park is arguably one of the greatest wildlife centres in the world. There are very few national parks in Africa that come close to it in terms of wildlife numbers and sightings, it is truly a photographers paradise. You can find wildlife that is unique to this valley, eg. Thornycroft giraffes, Cookson's wildebeest and Crawshay's zebra.
A few of our favorite lodges in this area are ,Chinzombo which in our opinion is the most luxurious lodge in this reserve, which offers unbelievable views of the Luangwa River from every room; Mchenja which is more of a 5 star safari tent experience, is set under the shade of Ebony trees on the banks of the river; Kakuli Camp is a great base to explore the reserve on foot or in a vehicle. The best time to visit South Luangwa is during the dry season which is from July to October, as the water in the rest of the reserve dries up, animals flock towards the permanent Luangwa River which makes for exceptional game viewing! A n amazing experience that is offered here by Time + Tide is that you can set out on guided walks between their camps, offering a once in a lifetime experience to view some of Africa's most iconic animals on foot while walking to your next lodge, also combine this with their signature sleep out for an unforgettable experience under the african stars.
Lower Zambezi National Park is as wild a reserve as you can get. Probably the second most visited game reserve in Zambia that offers excellent game viewing with incredible experiences such as traditional safaris, walking safaris and a host of water based safari activities which are all based from beautiful safari lodges that are perched along the mighty Zambezi River. Some of the best elephants sightings in the world can be found here …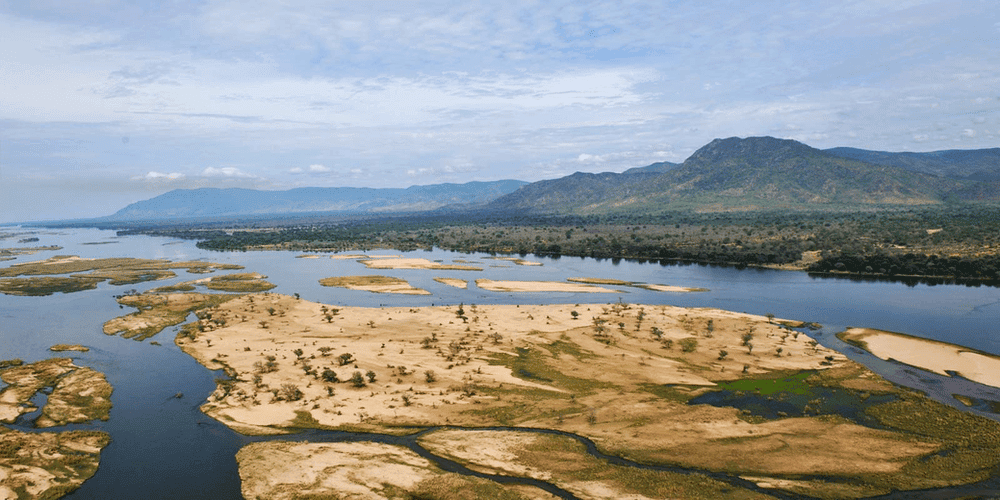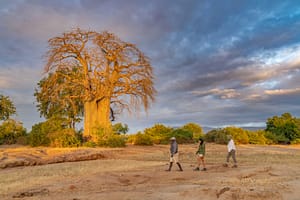 One of our favorite lodges in Lower Zambezi but that we recommend is Sausage Tree Lodge, set right in the heart of the best game viewing area in the reserve and has unmatched views of the Zambezi River, which can be hard to pull yourself away from to head out in search of animals; Another great place to stay is Chongwe Camp, which is set at the confluence of the Chongwe and Zambezi Rivers that wind through the forested valley, creating a haven for wildlife such a lions, leopards and wild dog; Potato Bush Camp is also a great option which can easily accommodation younger children and the lodge has activities that include the whole family. The dry season between July and October are the best times to visit and the shoulder seasons can be really good (and slightly cheaper) as well. As road transfers into the reserve are difficult, a short flight from Lusaka gets you into one of Africa's last true wildernesses.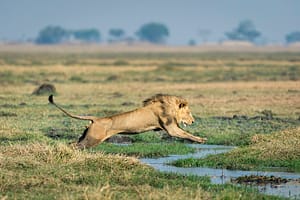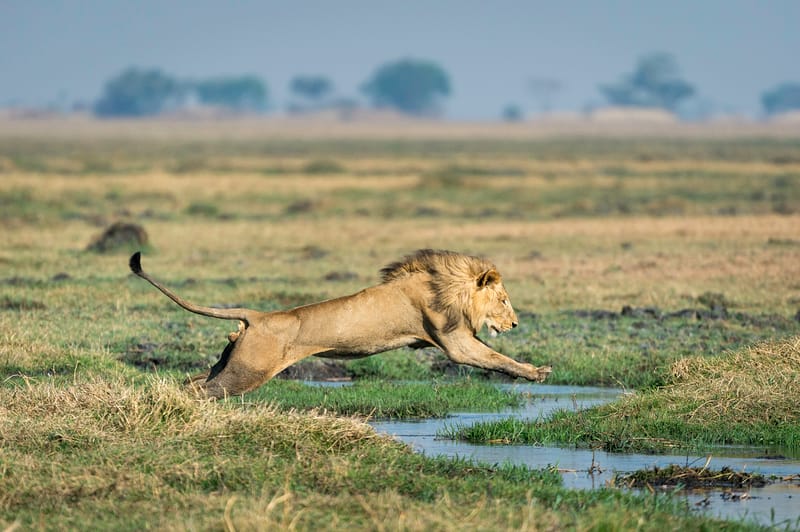 In Kafue National Park, for just a few short months you can visit this intriguing piece of wilderness where the flood plains seem to go on forever, you'll be able to watch hundreds of red lechwe, puku, and other plains game that move onto these wide open spaces to take advantage of the nutritious grazing that is on offer, this usually brings the predators with it and here is where you could see the famous 'flying lions' as they jump across the many channels of this reserve. One of the few camps here and certainly a favorite of ours is ,Shumba Camp, which is set on an island on the Busanga plains, the camp's six spacious, luxury tented units, raised on wooden platforms, stand sentry over the endless plains. Like the rest of Zambia, the dry season is the best time to go, and in Kafue the Busanga plains where the above mentioned lodge is closed for almost 7 months of the year, this makes Kafue National Park and more so the Busanga region one of the wildest, most pristine places on Earth.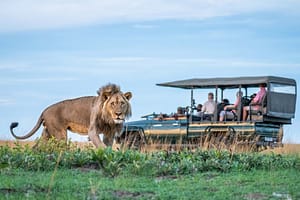 Another extremely wild area in the western parts of Zambia is Liuwa Plains National Park, which when it receives its rain from the north turns into a watery wonderland, with its own, although a lot smaller wildebeest migration, where they journey to the southerner parts of the reserve to give birth. This national park also offers you a good chance to see cheetah. The only permeant lodge here is the beautiful ,Liuwa Plain Camp, which we did a feature on a few weeks ago (,read it here), this place has been described as one of Africa's best kept secrets and definitely worth a visit if you make your way to Zambia.
A slightly weird but extremely awesome phenomenon happens in Zambia each year between October and December, the largest mammal migration in the world actually. About 10 000 million fruit bats decend on a small national park in the northern parts of Zambia called Kasanka National Park. Another incredible wilderness experience that is offered in Zambia is the chance to see the prehistoric-looking shoebill in the Bangweulu Wetlands, a bird sighting that is extremely sought after within the birding community and worth every ounce of effort if you do manage to lay your eyes on one.
Lastly, a visit to Zambia would be incomplete without a stop over to see one of the 7 natural wonders of the world, the Victoria Falls. Spend your days here wondering around the falls as 500 million liters of water cascade over the falls every minute, for me it one of the best places to visit while in Africa, I absolutely love it there. With many different places to stay around Livingstone our two favorite places are ,Tongabezi and ,The River Club, both are ideally situated away from the falls so you can still feel like you are in the bush while there, they are both on the Zambezi River and they are elegant and charming to make you feel at home while you not on an adventure exploring the area.
We hope this gave you some insight into one of our favorite destinations in Africa. Perfect for a family safari or just you and your partner. Zambia can easily be combined with other safari destinations or you can spend your whole safari just exploring Zambia.
We are ready to book your next African or South American adventure, get in touch with us when you are ready to travel again.
Fin